FREE MATS for LYTLE Mat'N'Frame Magnetic Photo Frames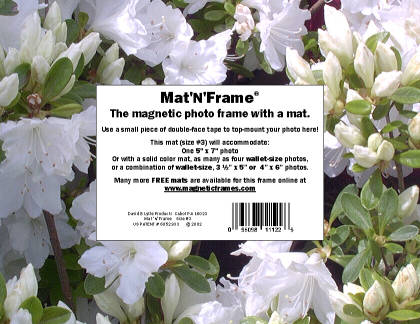 Welcome to LYTLE Products' Official web page for Mat'N'Frame. LYTLE magnetic photo and art frames are the finest on the face of the planet, and now, we bring you the first magnetic frames with FREE interchangeable mats. Our Mat'N'Frame Magnetic Frames are available in fine stores everywhere and come with a free mat. On this site, we offer you a selection of more free mats for these frames that you can produce at home with your own computer and color printer. We welcome you to browse through our site and print as many free mats as you like. We ask only that you remember that all the mats on our site are protected by US copyright laws and can be used only for personal use and can not be sold whole or in part.

Click on the link below for the group of beautiful colored mats you want. The sizes, #1, #2, and #3, shown below each design designate the three different sizes of frames from our Mat'N'Frame series that the mat will fit.

Mat size #1 is for wallet size photos.
Mat size #2 is for two wallet size photos, one 3-1/2" x 5" photo or one 4" x 6" photo.
Mat size #3 is for up to four wallet size photos, any combination of wallets, 3-1/2" x 5", 4" x 6" photos, or one 5" x 7" enlargement photo. Be creative with your arrangements.
To produce your own free mats at home, look through our designs and select a color and style that goes well with your photos. Then chose the size you want and click on the link. A colored mat of your desired style and size will appear on your screen. If this is the mat you want, print it out on your color printer.
The mat should print out in the correct size except for an eighth of an inch or so of trim around the outside edges. By trimming the excess colored mat, you will have a professional looking mat with full color right up to the edge that fits perfectly into one of our Mat'N'Frame magnetic frames. Small crosses at each corner show the outside edges of each mat.
After the ink is dry, trim the mat at the cross marks shown at the four corners of the mat. A straight edge and Exacto knife work best. If you prefer, a pair of scissors will do nicely, but you will need to draw a thin, straight line between each of the crosses to follow with your scissors.
After you have trimmed the mat to fit your frame, you are ready to mount your photo(s) on the mat. When you have decided on the correct position for your photo(s), stick a short piece of repositionable double-faced tape under the center of each photo. It doesn't take much tape to hold the photo. Stick the photos down lightly at first. If you have used repositionable tape, you will be able to change your mind and move the photos to a new location or even a different mat easily. To make centering your photo easy, you may want to use one of our FREE patented centering tools, available here. Just print out the tool of the same size as your mat. Trim off the excess paper along the dotted lines and use the convenient graph with numbered lines to center any photo easily.
---

Candy Mats
Available in #1, #2 and #3 size mats
Marble Mats
Available in #1, #2 and #3 size mats
Baby and Children Mats
Available in #1, #2 and #3 size mats
Teddy Bear Mats
Available in #1, #2 and #3 size mats
Colorful Crayon Mats
Available in #1, #2 and #3 size mats
Wedding Mats
Available in #1, #2 and #3 size mats
Pattern Mats
Available in #1, #2 and #3 size mats
Flower and Garden Mats
Available in #1, #2 and #3 size mats
Fruit and Vegetable Mats
Available in #1, #2 and #3 size mats
Holiday Theme Mats
Available in #1, #2 and #3 size mats
Homepage | Mat'N'Frame | Contact Us | Magnetic Paint

The photo and art mats on these pages were created to be used free of charge by individuals for personal use only. They are copyrighted in the year 2002 by David B. Lytle and also fall under patent laws protecting his line of magnetic photo and art frames. All content is property of David B. Lytle Products Inc. The mats may be used without permission but may not be reproduced for sale or any other for profit enterprise or added to another web site.